JOB OFFERS
PETITES ANNONCES
Crystal palace : premier league
Club: Crystal Palace FC
Contract: Full Time
Closing Date: 1st December 2021
Job Location: CPFC Training Ground, Copers Cope Road, Beckenham, Kent BR3 1RJ
Contract Type: Permanent/ Full time
Salary: Competitive
Who we are…
Our Sports Science and Medicine Department is comprised of experienced and skilled practitioners, working across a variety of disciplines. We are committed to developing robustness and optimising performance within our playing squad, as well as ensuring that injured players are safely and effectively returned to competition in the quickest possible timeframe. In order to achieve this, we strive to innovate and push boundaries, using clear processes, objectivity and continual reflection to guide us. We push staff within the department to make their own decisions and take ownership of the program, making a role within our department challenging but extremely rewarding.
Who you are…
We are looking for a Head of Physiotherapy to lead the provision of excellent physiotherapy services to the first team squad and continually seek to improve the quality of this provision to enhance player performance, reduce injury risk and minimise the time taken to recover from injury.
Your responsibilities will include….
Leadership and Communication:
• Communicate effectively with the Head of Medical and the Manager on the availability status of first team players as well the progress of injured players in rehabilitation.
• Lead in the development and refinement of medical processes to maintain best-practise.
• Line manager to the physiotherapists, rehab coach and masseurs.
• Co-ordinate, organise and lead all staff within the department to deliver an excellent standard of care to the first team squad, in keeping with the CPFC Sports Science and Medicine Operations Manual.
• Work closely with the Head of Fitness and Conditioning to ensure effective integration of sports science and medicine staff.
• To have the final decision (alongside the Head of Medical) on the management plans of first team players.
Clinical:
• Attend all first team fixtures, leading on pitch-side trauma cover.
• Overall responsibility (alongside the Head of Medical) for the assessment, treatment and rehabilitation of all first team players.
• Ensure a process-based, innovative approach to rehabilitation of injured players to minimise return-to-play time of injured players and reduce their risk of subsequent injury.
• Lead on the rehabilitation of injured first team players.
• Accompany players to medical appointments as required.
Administration:
• Overall responsibility for the continual development and refinement of the CPFC Sports Science and Medicine Operations Manual.
• Produce monthly availability and injured player updates for the football management and board.
• Responsible for organising the provision and scheduling of 365 days a year, physiotherapy and massage provision.
• Maintain accurate and up-to-date clinical notes in keeping with HCPC regulations.
• Ensure an effective in-service training program is developed and delivered for all Sports Science and Medicine staff.
• Ensure Continuing Professional Development is undertaken.
You will have…
Experience:
• Success in managing key functions of a Sports Science and Medicine department.
• Significant experience and success in the delivery of medical information to players, coaches and sports science and medicine staff.
• Significant experience in the assessment, treatment and management of professional football players.
• Significant experience of gym based rehabilitation strategies.
• Significant experience of using clinical and pitch based objective measures to inform decision making in terms of availability for training and match-play as well as in a rehabilitation setting.
Qualifications
• BSc in Physiotherapy.
• Working towards or have achieved a Masters in a related field.
• HCPC and CSP registration.
• Up-to-date ATMMIF qualification.
Knowledge and Clinical Skills:
• Excellent depth and breadth of knowledge in the field of sport and exercise medicine and specifically, physiotherapy.
• Excellent clinical assessment, treatment and rehabilitation skills.
Personality Traits:
• Leadership- able to inspire, motivate and galvanise both players and staff.
• Purposeful and driven.
• Able to take calculated risks when required.
• Composure- unflappable in a high pressure environment.
• Character- a caring, positive and enthusiastic nature with players and staff.
• Decisiveness- able to make decisions based on sound reasoning and communicate these clearly and appropriately with players and staff.
Team player.
• Strong organisational skills.
• Strong written and verbal communication skills with staff, players and external providers.
• Strong work ethic.
What you'll get in return….
• Competitive salary
• Cycle to work and tech scheme
• Social activities (day at the races, holiday party, team nights out)
• High level of responsibility from day one!
• 20% Club Shop discount
Club de Handball professionnel
Cherche kinésithérapeute du sport (F/H) pour intégrer le staff d'un club de Handball professionnel à proximité de Paris (sud).
Diplômes obligatoires :
Diplôme de Masseur Kinésithérapeute
Certificat de Kinésithérapeute du sport
Temps de travail :
Lundi soir à partir de 18h30. Environ 1 à 2h.
Vendredi soir à partir de 18h30 de 1 à 4h.
Poste disponible dès maintenant.
Centre Sport Thérapies Plus à Vevey (Suisse)
Le Centre Sport Thérapies Plus (CSTplus) situé derrière la gare de Vevey recherche
un·e nouveau/nouvelle physiothérapeute motivé·e et dynamique pour rejoindre son équipe.
Locaux de 300m2 comprennent six cabines dédiées à la thérapie et une salle de gym consacrée
à la rééducation active, au reconditionnement physique et à la réathlétisation
Pour répondre aux attentes de chacun·e, une équipe pluridisciplinaire avec des
professionnels dynamiques et compétents dans leurs domaines d'activités respectifs (préparation
physique, diététique, massages, coaching mental) a été créée. L'objectif est de fournir une prise en charge
spécifique de haute qualité. Mise à disposition du matériel professionnel adapté aux
besoins des patients et des sportifs.

VOTRE MISSION :
Prise en charge de patients ambulatoires orthop édiques
(aiguë et chronique) pour des patients sportifs ou non sportifs
• Prise en charge de groupe de patients (réentrainement à
l'effort, LCA, etc.)
• Assurer le suivi administratif des patients
• Amener des idées de développements (formation interne,
projets en lien avec le sport ou de développement du
centre)
VOTRE PROFIL :
Diplômé·e en physiothérapie avec
expérience
• Formation Kinesport serait un vrai +
• Formation continue en thérapie manuelle
et/ou dry needling, taping, chaînes
musculaires, pilates
• Motivé·e, autonome et rigoureux·euse
• Sens des responsabilités, de l'organisation et
de la communication pour un travail
d'équipe de qualité
• Respect des règles d'hygiène et
de sécurité
• Attrait pour tout ce qui touche
au domaine du sport et de la
prévention

L'OFFRE :
Une activité dans un domaine qui vous correspond, tel que le sport, au
sein d'une équipe dynamique
• Un cadre de travail agréable (salle de thérapie, gym, vestiaire, douche)
• Un salaire et des conditions sociales motivants
• Aide financière pour la formation continue et soutien pour les projets
personnels
• Contrat d'employé·e à durée indéterminée

CANDIDATURE :
Dossier complet (CV, diplômes et
lettre de motivation) à info@cstplus.ch
Cabinet Kinésithérapie à Pau
Le Cabinet Judez cherche remplaçant(e) longue durée à partir du 15 Octobre (à définir ensemble).

Cabinet de 150 m2 avec 6 cabines de soins, plateau technique et équipement très récents. WINBACK, ICOONE, IMMOVE.
Vous travaillerez avec un équipe jeune et dynamique composé de 4 Kinés.
Cabinet axé sport partenaire d'un équipe de basket en ProA. Mais également il y a un Kiné Respi/Cardio et une Kiné périnéale/cáncer.
Le Remplacement peut aboutir en assistanat.
Retro 75/25.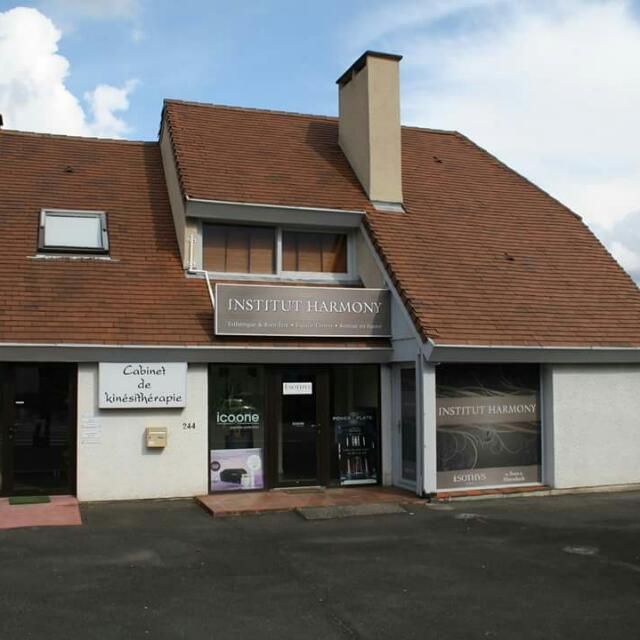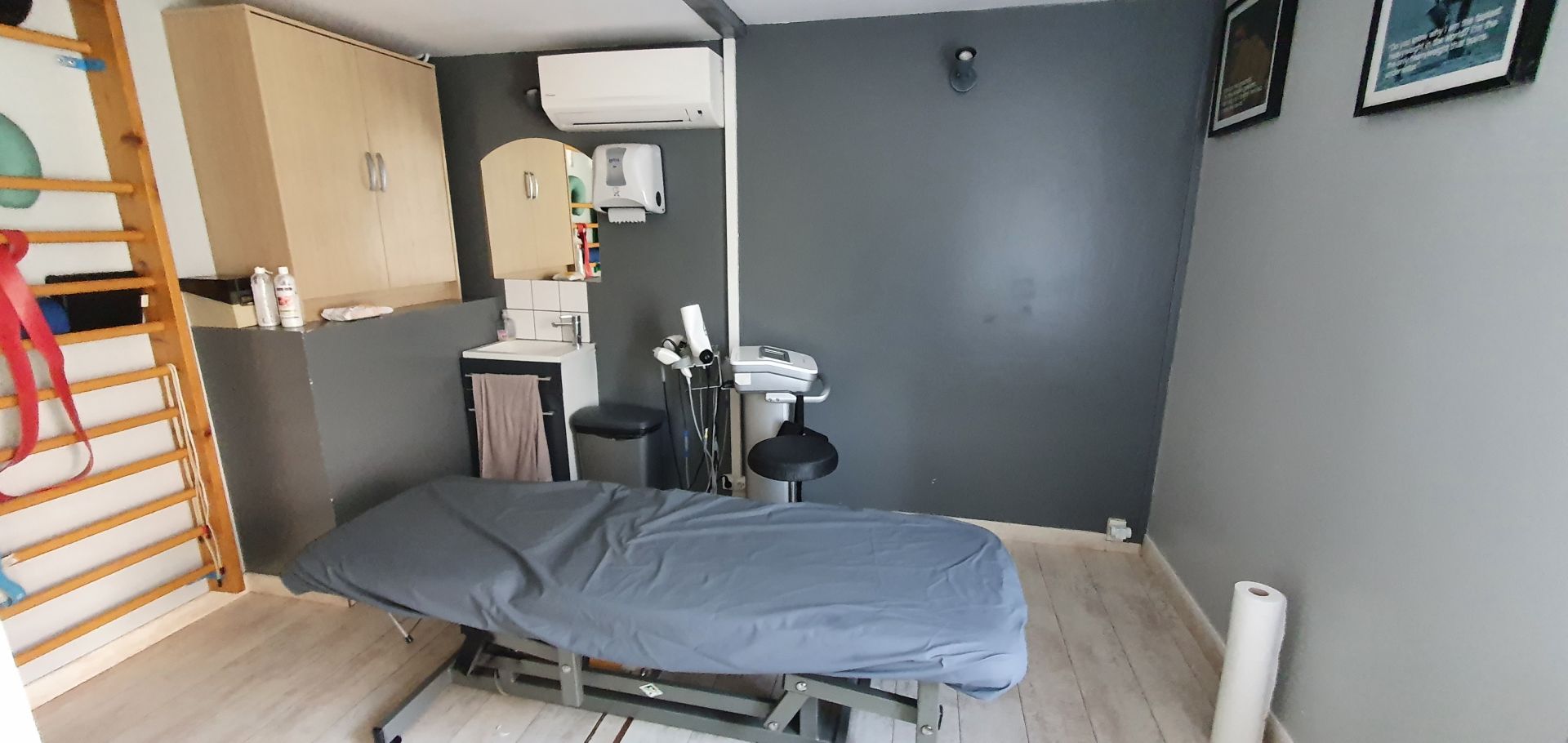 Vacation Montpellier Hérault SC
Offre d'emploi : vacation pour un match de National 2 Football (réserve professionnelle)
Lieu : Moulins
Date : 09/10/2021
L'équipe réserve du Montpellier Héraults Sport Club recherche pour assurer le suivi d'un match de national 2 un kinésithérapeute formé en kinésithérapie du sport. Expérience requise dans le suivi d'une équipe sportive en compétition.
Mission : préparation d'avant match (présence causerie, strap, massage et préparation à l'effort) / suivi du match (intervention terrain si besoin) / soins après match (+ bilan d'après match à envoyer au référent club)
Durée 5h (15h30-20h30)
Cabinet Kiné du Sport Castres (81)
Cabinet pluridisciplinaire sportif
recherche de 2 collaborateurs(trices) kinésithérapeutes pour rejoindre au sein sa structure basée dans le sud ouest - 220 m2 de cabinet, 1000 m2 de terrain et 43 km de voies vertes juste en face
✔️ Emploi du temps complètement adaptable
✔️Jeunes diplômés acceptés (possibilité de vous former directement au sein de la structure)
✔️Spécialités complémentaires bienvenues (vestibulaire, uro-gyneco, thérapie manuelle, Maxilo..)
- Équipe jeune et dynamique


Travail en très bonne entente avec la Clinique Médipôle Garonne, le CHU de Toulouse, la Polyclinique du Sidobre, le 8e RPIMA, le Castres Olympique et l'ensemble des acteurs médicaux locaux.
De nombreux projets en cours et à venir auxquels vous pourrez vous intégrer
3 Impasse du Corporal 81100 Castres
05 63 51 96 12
Au pied de la Montagne noire
1h00 de Toulouse
1h30 de la mer
1h30 des Pyrénées

Contact :
Matthieu Catoen
06 22 06 16 50
First Team Physiotherapist
Leicester City
Vacancy summary
Closing date:
August 22nd
THE ROLE
Leicester City Football Club is currently searching for a First Team Physiotherapist to work for a forward-thinking medical, sport science and strength and conditioning department.
The successful candidate will work closely with all members of staff, under the Head of Performance, to ensure the optimum care and management of our players. The role will work across both rehabilitation and performance.
REQUIREMENTS
The ideal candidate will have demonstratable capability in the following:
Clinical reasoning and attention to detail in the design of rehabilitation programmes for our injured players
High level of skill and diversity in the application of manual therapy
A thorough understanding of athletic and physical development.
Excellent communication skills - involving all staff and levels at the Club.
High level interpersonal, influencing & decision-making skills.
Key skills including open mindedness, flexibility of thought, a sense of innovation, diversity of skills and a willingness to listen and adapt are essential for the physiotherapist to succeed in a highly motivated and dynamic team-based sport.
EXPERIENCE AND QUALIFICATIONS
The ideal candidate will have the following experience and qualifications-
Essential: (please do not apply if you do not fulfil these basic criteria)
Qualified and State Registered Physiotherapist
Registration with The Health Care Professions Council
Up-to-date qualification with a course covering basic life support and rescue from the field of play (for example ATMMiF held by The FA, EFARU held by The RFU).
Excellent knowledge and capability in physiotherapy, able to supervise and mentor others and liaise with senior staff.
A thorough understanding and experience of the challenges of physiotherapy in an elite sport environment.
A strong musculoskeletal background with specific interest in structural and functional pathology of the spine and pelvis.
An in depth understanding of human kinetics and clinical biomechanics.
Desirable: (aspects that may influence selection criteria for the short list)
Experience of working in high-performance sport at a senior level.
Experience of working in multiple sports.
Strong sense of education and personal development through diverse working practice.
A qualification in spinal manipulation therapy.
Postgraduate education / or equivalent experience / experience in Aquatic Therapy
A willingness to analyse current working practices and liaise with academic institutions to assist in critical review of such work.
For the current staff at the club this role is important to continue to provide the best quality of support that is possible to the manager and the players of the first team. There needs to be a strong team ethos as an integral position within the medical department and a firm belief to look after the welfare of the colleagues within the support team.
ABOUT THE CLUB
Knowing some of the history of Leicester City Football Club helps you appreciate the sense of community, spirit and family for which the Foxes are renowned for.
Formed in 1884, the Club has been in the Premier League since 2014 when the Foxes returned to the Premier League as the Championship title winners. In 2016, Leicester City became Premier League champions. This remarkable achievement qualified them for the UEFA Champions League for the first time in the Club's history and reached the quarter finals.
Under the stewardship of King Power and the Club's CEO Susan Whelan, Leicester City Football Club is deeply committed to the local community and its supporters and continually strives to ensure that every point of engagement with fans is truly world class including the experience on matchdays. Investment in the Club continues, with the opening of a new 180-acre Training Ground in north Leicester.
Ultimately, the Club's vision is as exciting as it is simple: we believe that together, it's possible. We value and respect individual difference and recognise that the diversity of our staff contributes to our success off the pitch. Our inclusive culture and approach is supported by our Stonewall Diversity Champions partnership, our Time to Change pledge and our status as a Disability Confident employer.
BENEFITS PACKAGE
Leicester City Football Club offers a competitive salary and pension scheme with life assurance to all its permanent employees. Employees are able to benefit from an onsite subsidised staff restaurant. Employees also benefit from up to 33 days' annual leave including bank holidays.
Leicester City Football Club is an equal opportunities employer and we positively welcome applications from all candidates regardless of age, disability, gender identify or expression, marriage and civil partnership, pregnancy and maternity, race, religion or belief, sex and sexual orientation.
Leicester City Football Club is committed to safeguarding and promoting the welfare of children and young people and expects all staff to share this commitment. As such, you may be subject to a satisfactory enhanced disclosure via the Disclosure & Barring Service and prior to taking up any role.
HOW TO APPLY
If you feel you have the qualities and experience we are looking for please apply by sending your CV, along with a covering letter, by email to
recruitment@lcfc.co.uk
A shortlist of suitable applicants will be compiled shortly after the closing date and successful candidates will be contacted about the interview process.
FIRST TEAM PHYSIOTHERAPIST
Club: Fulham FC
Contract: Full Time
Closing Date: 10th September 2021
If you think you can add value to the team, please email a copy of your CV and covering letter to
recruitment@fulhamfc.com
.
Applications Close: 10th September 2021
We are seeking a qualified physiotherapist to help deliver medical services for the First Team. Working as part of a multidisciplinary team you will be responsible for the delivery of injury prevention and rehabilitation strategies that will maximise player performance, enhance recovery and reduce the risk of injury.
You will be required to carry out regular assessment and therapy of players and deliver individual and group injury prevention exercise sessions. You will also be responsible for individualising player programmes and be able to perform a variety of effective manual therapy techniques based on individual need.
You will organise and deliver group and individual pre-training prevention sessions as well as design and implement post-injury rehabilitation programmes including objective markers for return to play.
We are seeking a forward-thinking candidate who can work confidently with minimal supervision and who demonstrates a commitment to continuously developing themselves professionally, with a willingness to be challenged. You should also be prepared for irregular and unsociable working schedules at times, including evenings and weekends.
This is an exciting opportunity for a skilled, enthusiastic individual who has previous experience of working with elite athletes along with the following qualifications; BSc in Physiotherapy, HCPC registered and a current Advanced First Aid qualification (ATMMIF). You should be passionate about your work and be keen to undertake training and development courses in order to keep up to date with current research and developments in sports medicine.
Fulham Football Club is committed to increasing diversity and maintaining an inclusive workplace culture. We welcome applications from all qualified candidates regardless of their ethnicity, race, gender, religious beliefs, sexual orientation, age, marital status or whether they have a disability or not.
ACADEMY PHYSIOTHERAPIST (PROFESSIONAL DEVELOPMENT PHASE)
Club: Watford FC
Contract: Full Time
Closing Date: 6th September 2021
Watford
How to Apply
1. Please download and complete an application form located on the Club website under the career section (Club/ Careers) CLICK HERE
2. Please send completed application form, cover letter detailing why you would be suitable for the role, a copy of all relevant qualifications, right to work in the UK documents and your CV via email to
hradmin@watfordfc.com
or by post to HR Admin, Watford Football Club, Vicarage Road Stadium, Watford, Hertfordshire, WD18 0ER.
An exciting opportunity has become available within the Academy's Performance Team at Watford Football Club. We are currently looking to recruit an Academy Physiotherapist working within the Professional Development Phase, reporting into the Senior Academy Physiotherapist.
Duties will involve a close working relationship with sport science in the planning and implementation of a periodised strength and conditioning programme and when progressing rehabilitation plans; in addition to organising and implementing strength and conditioning, movement analysis, treatment, progressive rehabilitation, medical screening, and health/medical education programmes for our Professional Development Phase (PDP) players.
The role will be based at the clubs training ground in London Colney and will include working all U18 games (home and away) and extend to cover of U23 games when required. Other duties include working closely with the Academy Physiotherapist (U9-U16) to coordinate Casual Physiotherapists covering U9-U16 training and matches every week.
The successful candidate will enjoy working as part of a team, be enthusiastic and hardworking, and be flexible to the requirements of the position.
Applicants should ideally live local to Watford/London Colney or the surrounding areas and be UK/EU residents or non-residents with a valid UK work permit.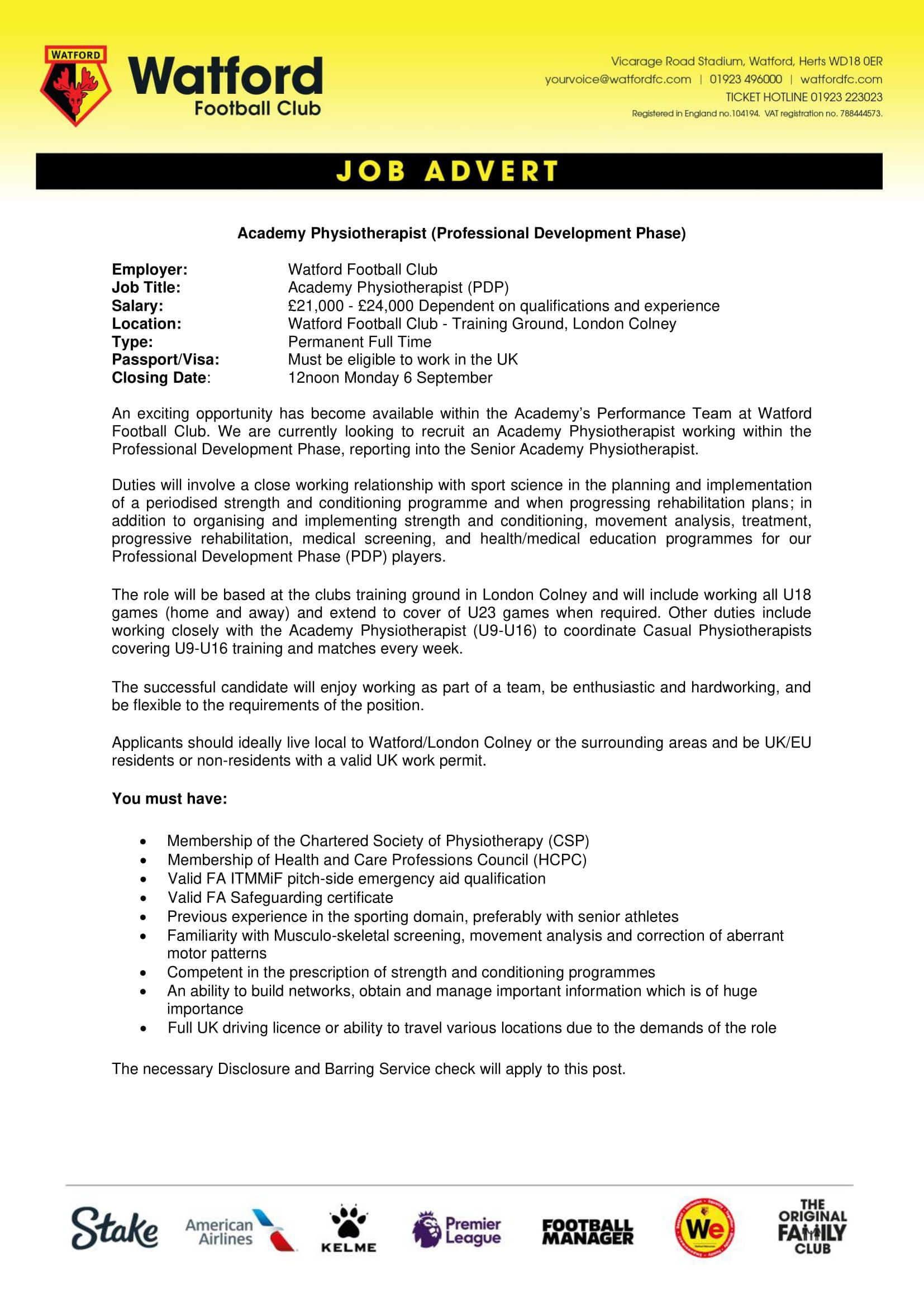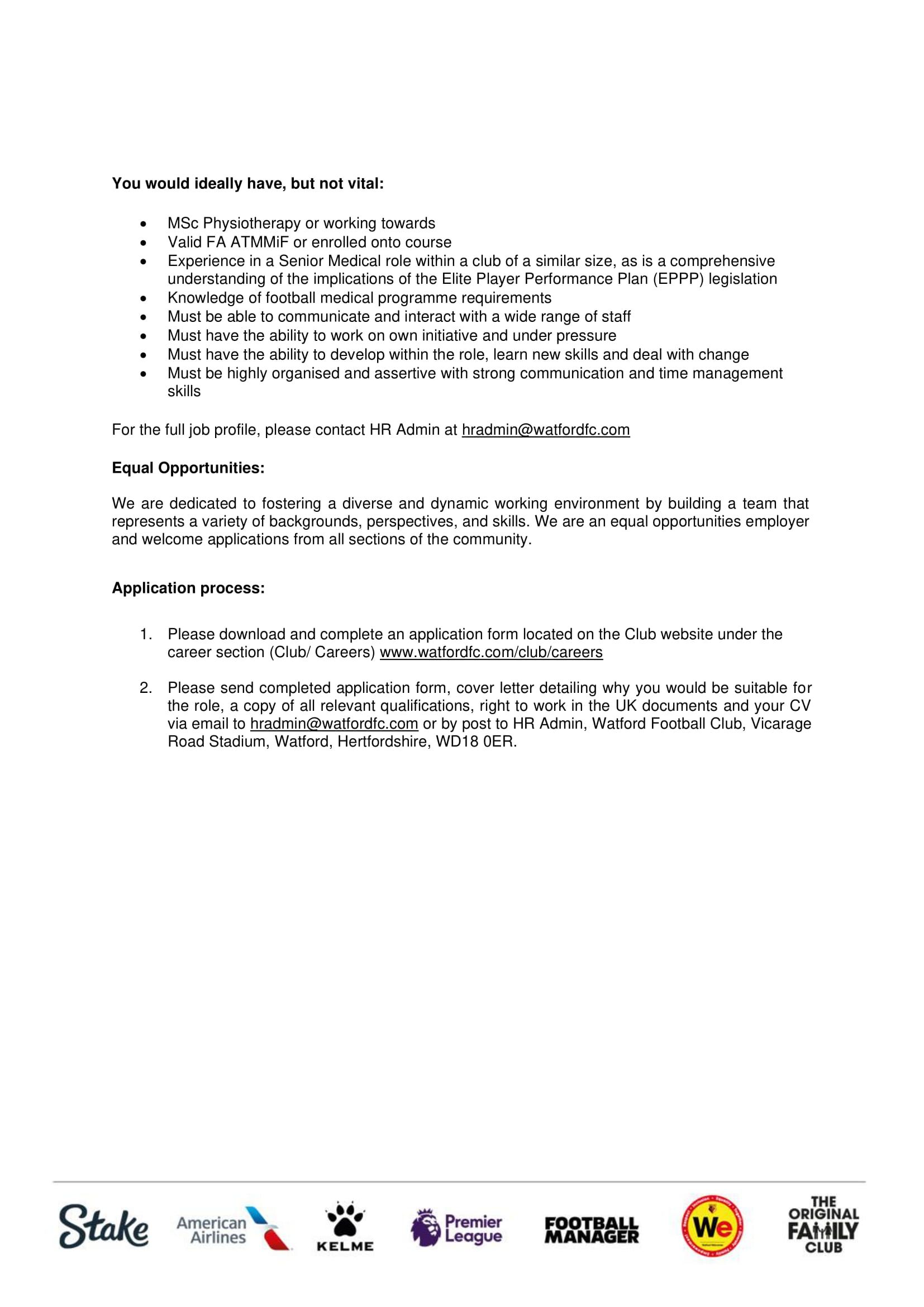 Dans le cadre de son développement, la Chorale Roanne Basket cherche un Kinésithérapeute dans le domaine du sport, si possible avec une expérience. Un diplôme ou une formation de préparation physique serait un avantage.
Le club évolue dans l'élite du basket Français.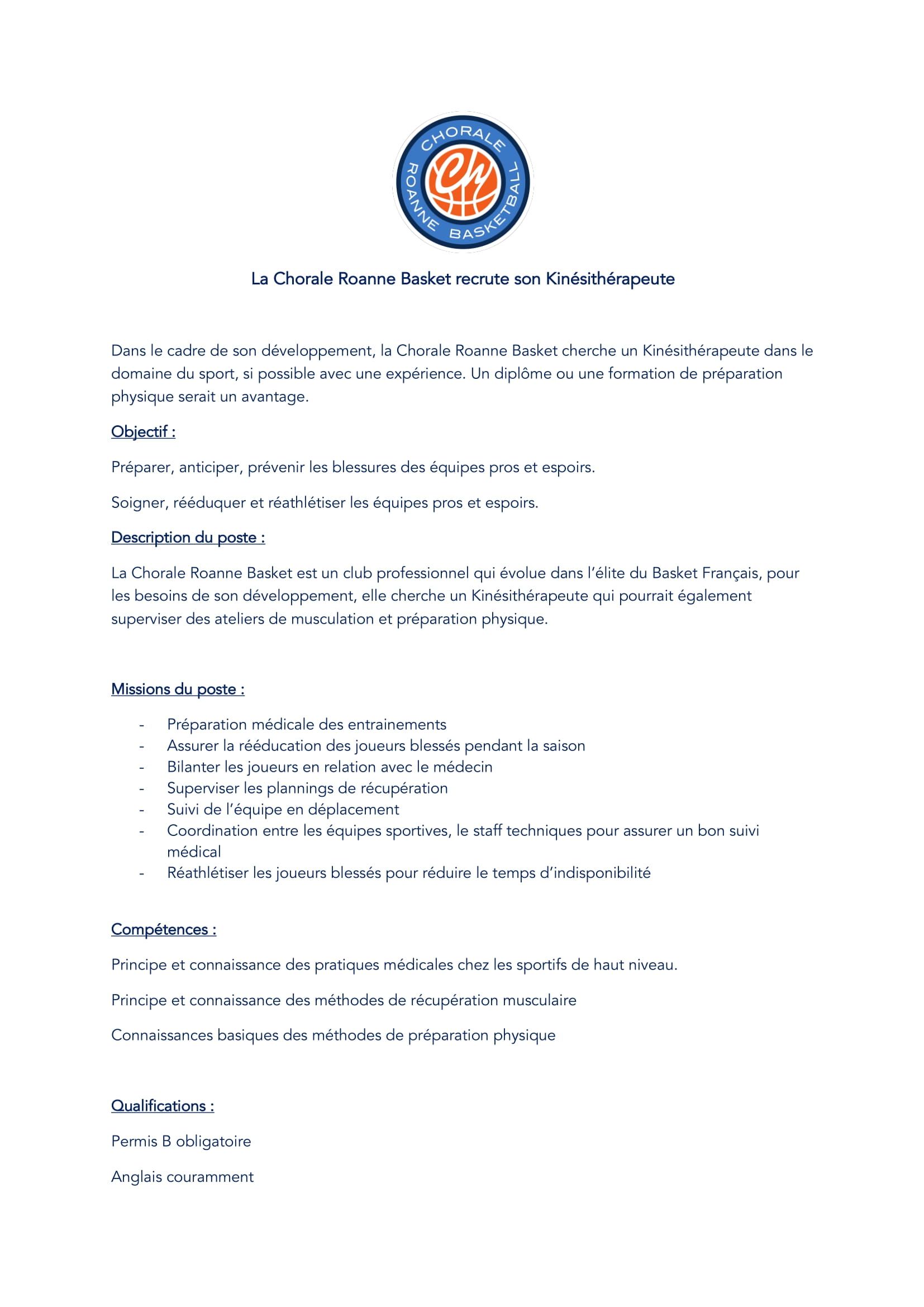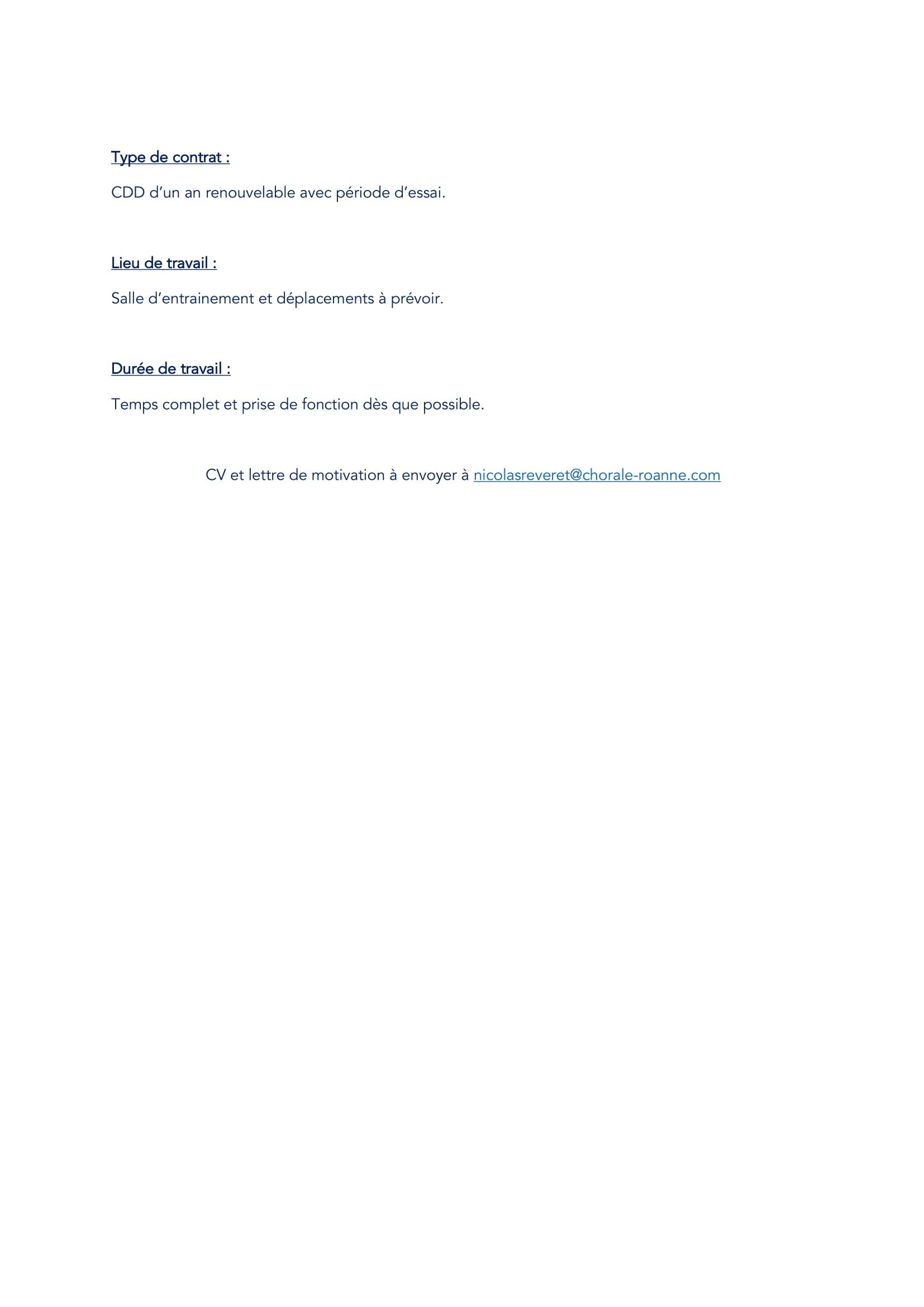 11 LEADER recherche dans le cadre de son développement de son pôle ÉLITE , un kinésithérapeute diplômé d'état en Contrat à Durée Indéterminée.
MISSIONS :
Rattaché à l'équipe Médico-sportive, vous devrez assurer les soins et l'accompagnement physique et technique de sportifs d'élite dans différents pays d'EUROPE.

Rattaché à l'équipe d'enseignements 11 Leader au sein la société KINESPORT, vous devrez animer des cours de formation professionnelle.
ACTIVITE KINESITHERAPIQUE
Vous disposez d'une solide expérience de suivi d'un sport collectif (travail en centre de rééducation à orientation sportive, travail dans un club de haut niveau, un centre de formation ...)

Vous avez un diplôme en kinésithérapie du sport . Vous avez de l'expérience en préparation physique et physiologique, et êtes en mesure d'animer une séance sur terrain, un programme et une planification

Vous avez de l'expérience en thérapie manuelle et êtes en mesure de faire un bilan

Vous aimez le travail en équipe et respecter les consignes transmises par le ou les responsables.

Vous avez une aisance relationnelle et un bon sens de la communication avec les patients et vos collègues

La maitrise de l'anglais est indispensable

La maitrise de l'espagnol est souhaitab

le

ACTIVITE DE FORMATIONS ET DE PUBLICATIONS
Vous avez l'esprit de recherche et de partage

Vous savez écrire des synthèses d'articles et des articles ( français anglais souhaitable), et réaliser des veilles scientifiques

Vous savez animer un groupe en formation afin de transmettre la méthodologie 11 Leader.
Les personnes intéressées sont invitées à se faire connaître par mail (lettre de motivation, CV et projet professionnel) auprès d'Arnaud BRUCHARD, à
manager@11leader.com
CENTRE PARAMEDICAL SANTY LYON
Le Centre Paramedical Santy recherche 3 collaborateurs/collaboratrices à temps plein.
Cabinet situé sur Lyon 8E en collaboration avec le Centre Orthopedique Santy.
Patientele orientée en traumatologie/orthopédie du sport.
Cabinet équipé de 2 plateaux techniques, 10 box individuels, 2 salles de physiothérapie, 1 balnéothérapie, 1 salle d'isocinetisme et un secrétariat.
Formation en kinésithérapie du sport serait un plus.
06-10-25-86-54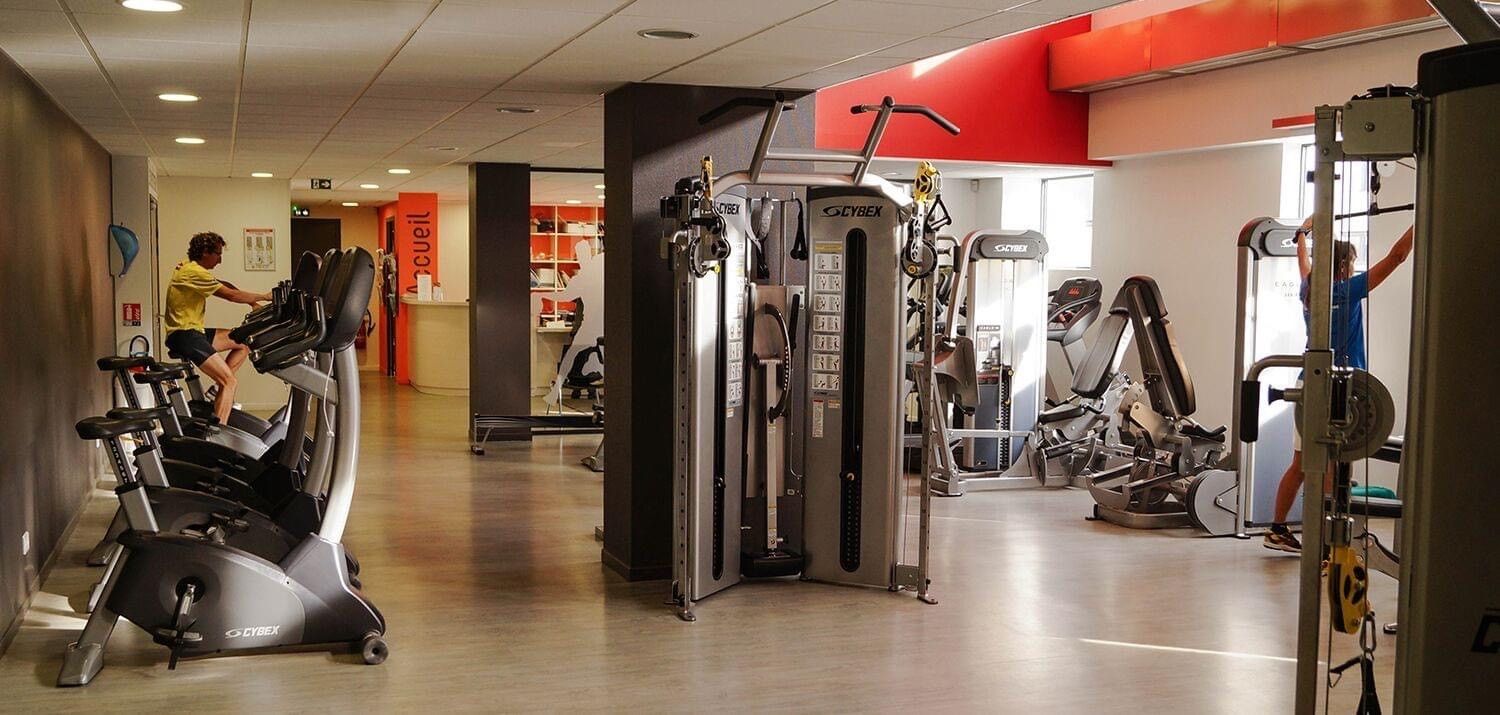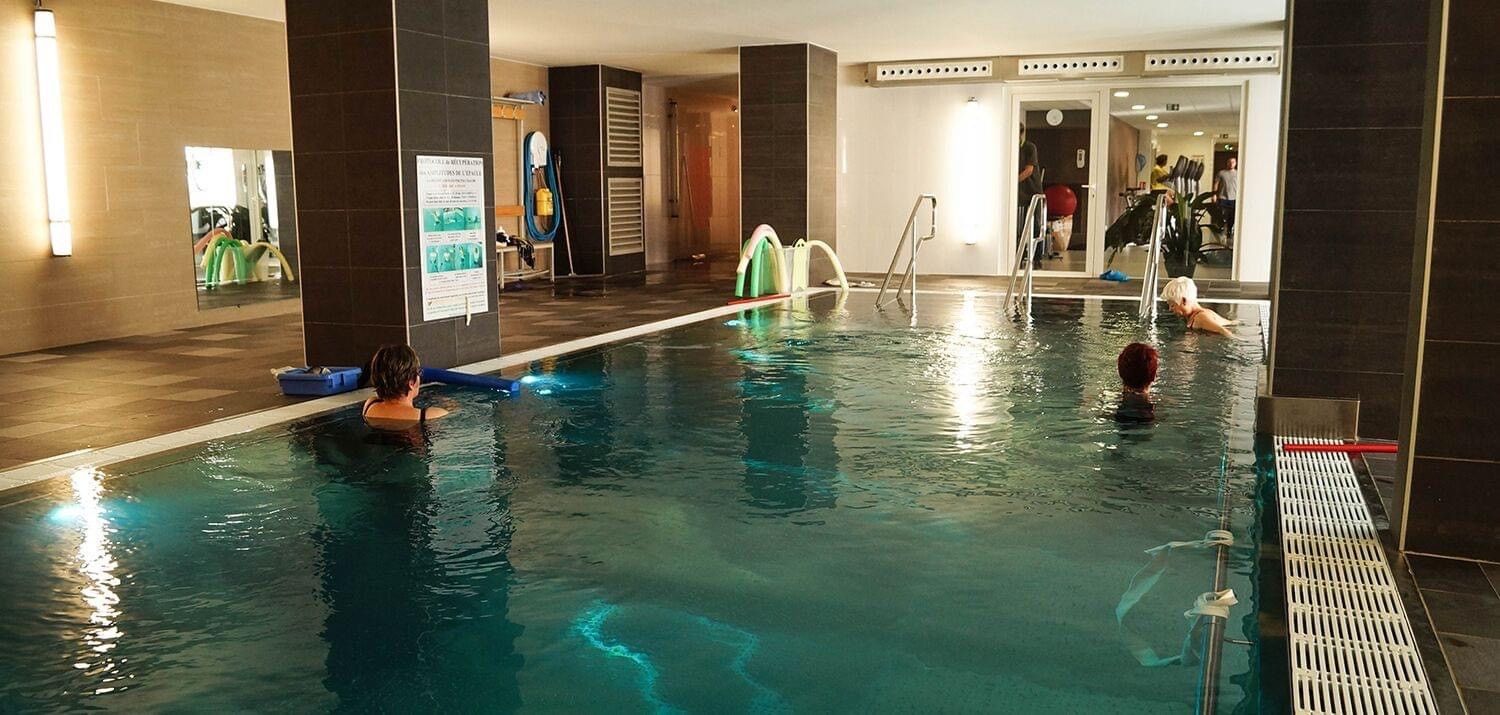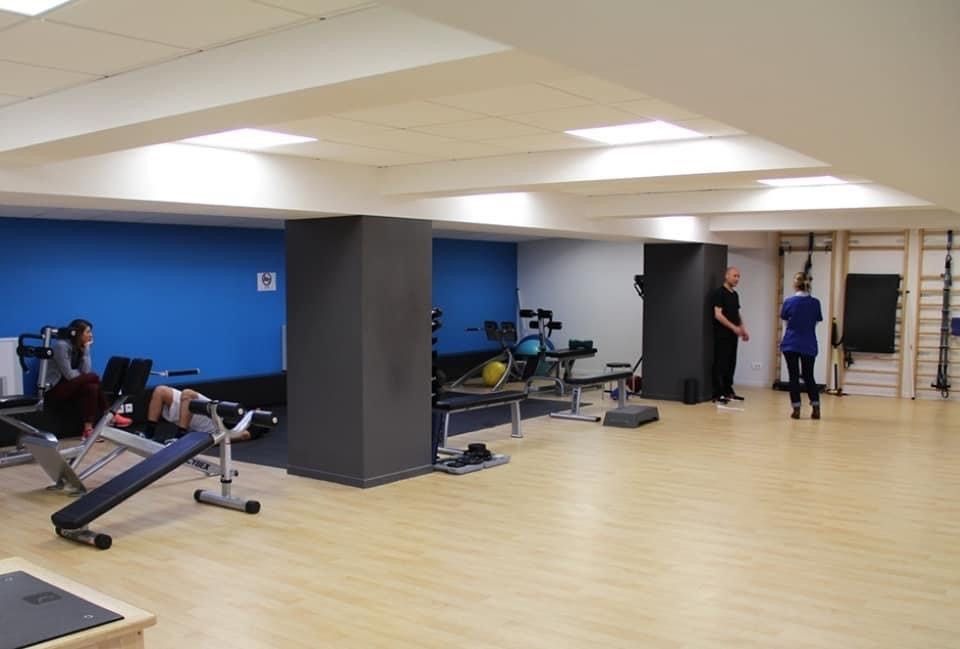 CHAMOIS NIORTAIS FC : Centre de Formation
POSTE POURVU !

Le Chamois Niortais FC est un club de football professionnel qui évolue en Ligue 2 , recherche un kinésithérapeute pour son centre de Formation, l